Flexispot's new Economy product line launched in 2021 with the most advanced features and economical prices. The outstanding features of Flexispot EC5 Premium – 3 Stages include: 
| | | |
| --- | --- | --- |
| | Anti-Collision Sensor  | |
| | 2 motors – 3 stages | |
| | Square Column | |
| | | |
Feature
Quiet and smooth operation
The Flexispot height-adjustable standing desk allows users to sit or stand with ease and encourages healthy movements throughout the day. The E7 desk frame also incorporates a feature that allows for quick maintenance without having to remove the table top, making maintenance easy and efficient.
Low noise:  The electric motor works when switching between sitting <-> standing, working extremely quiet, ensuring you never disturb others in the same room.
Smooth motion:  Smooth motion ensures your computer monitor and other desktop accessories stay seated on the table when moved up or down – it's so smooth that even your drink will be compared pour!
Built-in anti-collision sensor – Anti-collision Tech
Features for Flexispot's most advanced product line. The sensor detects and stops motion when a collision is detected. For the safety of children, objects are under the table, out of your sight.
Advanced All-in-one Keypad . Advanced All-in-one Keypad
Sit/stand reminder system
Built-in smart reminder system for when you should sit/stand, it will let you know when it's time to stand and can be turned on or off at any time to suit your work habits. Dear.
Programmable memory presets
Programmable memory with three (03) heights, you can save time adjusting the height of the desk to suit your body shape when sitting, standing and working. With the push of a button, the desk automatically adjusts to its preferred working position.
Energy-saving display
The exact height of the displayed tabletop will automatically darken to reduce power consumption, extend the life of the led bulb and reduce your attention while working.
The standing desk frame has a custom width from 110cm – 190cm. 
The table frame is suitable for tables with a width of 1200 – 2000mm (Full size).
Flexible leg space thanks to a design that eliminates horizontal bracing while remaining stable.
Clever design that eliminates crossbars provides more flexible legroom, so you can use other activity-enhancing solutions like treadmill/bicycle chair with height-adjustable stand your.
Height-adjustable stand makes the table more stable
Very useful in cases where the height-adjustable workbench is placed on an uneven floor.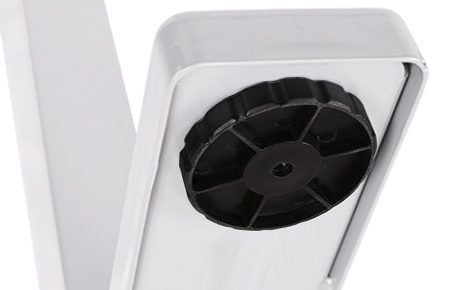 Table top options: 
Size
Material
Colour
Price when buying with
table frame
600mm*1200mm
An Cuong MDF wood resists moisture
White Melanin / Black Melanin / Oak Wood Melanin / Walnut Melanin.
700,000 VND
700mm*1400mm
An Cuong MDF wood resists moisture
White Melanin / Black Melanin / Oak Wood Melanin / Walnut Melanin.
900,000 VND
800mm*1600mm
An Cuong MDF wood resists moisture
White Melanin / Black Melanin / Oak Wood Melanin / Walnut Melanin.
1,200,000 VND
700mm*1400mm
High-strength bamboo wood
(Premium Bamboo)
Natural bamboo wood color
1,900,000 VND
800mm*1600mm
High-strength bamboo wood
(Premium Bamboo)
Natural bamboo wood color
2,400,000 VND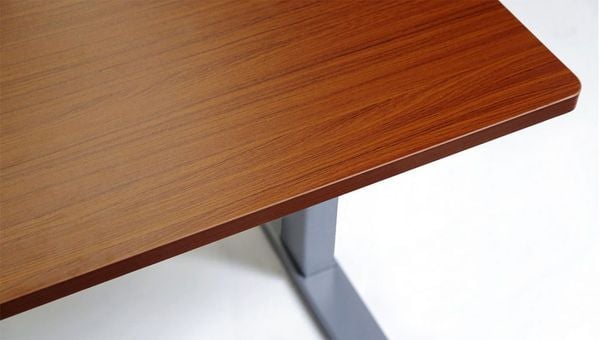 Compare Flexispot Lift Table Frame Models: 
Model Flexispot
EC1 
EN1
EC5
E7
SKU
ET114E
ET114N
ET225
ET223
Engine No. (Motor)
1 – Single Motor
1 – Single Motor
2 – Dual Motors
2 – Dual Motors
Number of leg shaft segments
2 Stages
 2 Stages
3 Stages
3 Stages
Adjustable pitch
710mm – 1210mm
710mm – 1210mm
580mm – 1230mm
Location memory settings
x
Remember 03 positions
Remember 03 positions
Remember 03 positions
Reminder feature
x
x
Yes
Yes
Anti-collision sensor
x
x
Yes
Yes
Easy Maintain
x
x
x
Yes
Suitable table top size
Width: 500 – 800mmLength: 1000 – 1600mm
Width: 500 – 800mmLength: 1000 – 1600mm
Width: 600 – 800mm
Length: 1200 – 1800mm
Width: 600 – 800mm
Length: 1200 – 2000mm
Table frame load
70 KGS
70 KGS
100 KGS
125 KGS
Adjustable speed
25mm/s
25mm/s
35mm/s
38mm/s
Noise level when operating
<50 DB
<50 DB
<50 DB
<50 DB
Trademark
FlexiSpotTM (USA)
FlexiSpotTM (USA)
FlexiSpotTM (USA)
FlexiSpotTM (USA)
Made in
China
China
China
China