Description
The Flexispot Motion GET102 height-adjustable Game Table is ideal for gaming setups, allowing gamers to stay comfortable for long periods of time. It's motorized to lift, with an ultra-quiet mechanism that allows gamers to adjust their field of view without making any noise. It has a textured carbon fiber screen for a smooth feel. The gaming table maintains its stability even when fully extended or over rough terrain. In particular, Flexispot Motion Gaming Desk is added with many convenient features to help gamers have a better gaming experience.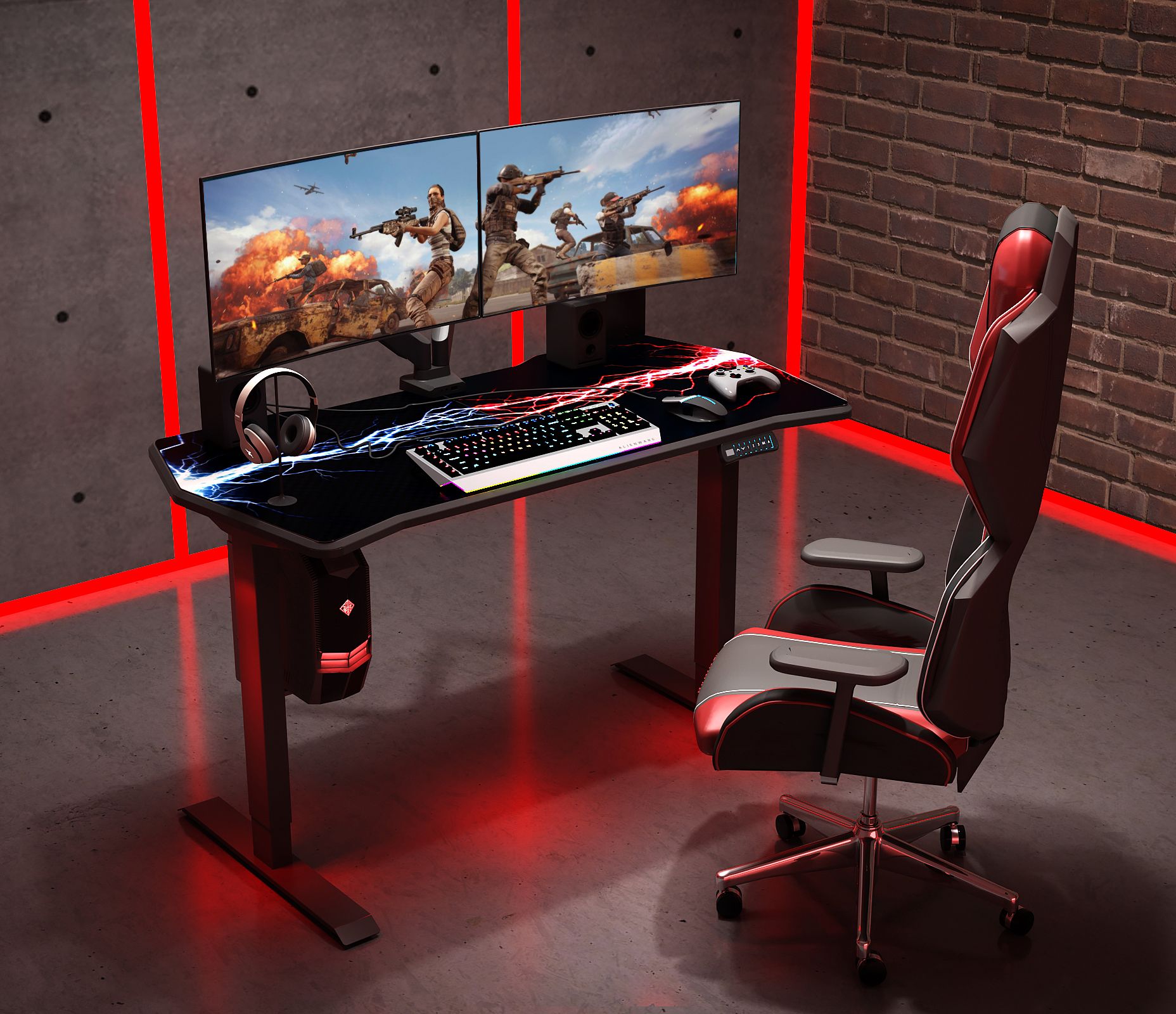 The Game Desk product line, launched in 2021, is Flexispot's most advanced height-changing desk. The Flexispot Motion GET102 height-adjustable gaming desk is packed with all the great features that balance standing and working posture, enhancing productivity and creating comfort for Gamers throughout the day.
Special features of the Flexispot Motion GET102 height-adjustable gaming table include: 
| | | |
| --- | --- | --- |
| | Quick & Smooth Adjustments | |
| | Super stable and whisper quiet | |
| | High quality, environmentally friendly desktop | |
| | Robust and stable construction | |
| | Full-Covered Mouse Pad | |
| | Headphone Hook | |
Quiet and smooth operation
The Flexispot Motion GET102 height-adjustable Game Table allows users to sit or stand with ease and encourages healthy movements throughout the day.
Low noise:  The electric motor works when switching between sitting <-> standing, working extremely quiet, ensuring you never disturb others in the same room.
Smooth motion:  Smooth motion ensures your computer monitor and other desktop accessories stay seated on the table when moved up or down – it's so smooth that even your drink gets stuck. compare
Policy
• Guarantee: 24-month warranty period for manufacturing defects.
– Recommended weight when using the best chair does not exceed 100kg.
– With the requirements for higher weight, we will have our own design to satisfy you.
Technical Specifications
Model
Flexispot Motion GET102
Function
Engine No. (Motor)
Single motor
Iron leg design
2 Stages
Table top size
63.0″/1000-1600mm(Width)19.7" -31.5″/500-800mm(Depth)
Adjustable pitch
710mm – 1210mm
Suitable even for middle school students to people up to 194cm
Table frame load
154/bs/70kg
Feel free to put all your computers and other items on the desk.
Table top movement speed
25mm/s
Movement from lowest to highest in 15s.
Noise level when operating
<50 DB
Low noise, does not affect the concentration of people around.
Trademark
Flexispot
Origin
Made In China
Insurance
24 months