Cycling relaxation desk Flexispot Deskcise VF-V9 Pro is a one-piece set of desks and chairs that allows you to work and exercise, exercise, burn calories and fight office diseases such as pain. back, neck fatigue, obesity. Deskcise Pro is a product from the FlexiSpot brand, now available in the Vietnamese market and distributed and warranted by the company VixFurniture Vietnam.
SOUND MOVEMENT WITHOUT SOUND
Deskcise Pro has a  elegant, compact and simple lookso it is very suitable for office workspaces, besides, outstanding smoothness is also a plus point for this bicycle chair. Different from other exercise machines, this chair only makes movement smooth "whispering" movement when there is a movement of the pedal, even the moving wheel is equipped with anti-noise and anti-slip features. So in the process of working, it will  not affect the people around and also  not distract the user.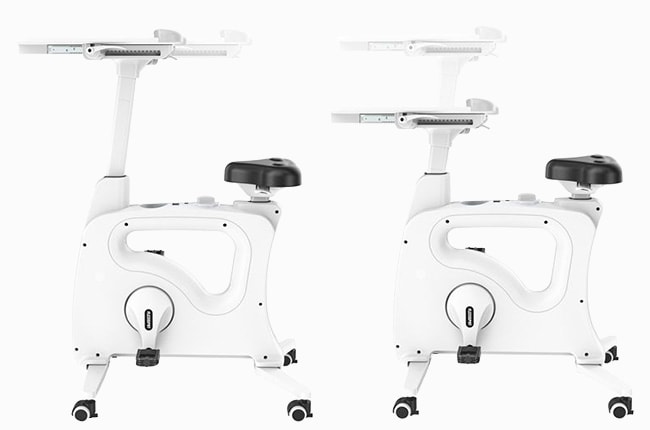 ADJUSTABLE SATHER HEIGHT AS NEEDED
V9U seat can adjust the seat height from 75.2 – 94.2 cm, suitable for people with a height of 155cm – 188cm. The chair can also be used for a variety of desks of different heights or in combination with a height-lifting table, suitable for the interiors of many offices.
The user-friendly pneumatically adjustable lever is designed to fit neatly under the seat cushion, moving the seat up or down with a light push.
ADJUSTING HEAVY – LIGHT BEACH MODE WITH FIELDS
The intelligent design allows the user to adjust the weight of the pedal with the 8-level Magnetic Dial –  allowing us to get the right fit movement your body condition. The CD display allows tracking time, distance, calories burned, etc. help users monitor the movement process and better control energy.
LIGHT MOVING WHEELS
The relaxing cycling desk Deskcise Pro is easy to move thanks to its flexible, easy-rolling 4-wheel system. Wheels can easily move on carpets, wooden floors. Fully assembled with no tools needed.
Four sturdy casters for 360-degree mobility, allowing the sports furniture to be moved between rooms with ease.
1 Minute Assembly
Simply attach the desktop to the bike and done! No extra tools or complicated assembly needed
VixFurniture Distributing smart furniture in Vietnam
Deskcise Pro relaxing cycling desk with Ergonomic design makes you more comfortable during work, improves labor productivity and protects health. With a modern design combined with neutral colors, Bicycle Pedal has a high aesthetic, suitable for the interior space of many offices.
VixFurniture Vietnam always brings top quality imported genuine imported high-quality ergonomic office chairs, ergonomic chairs. We are confident to be a reliable and reputable address for all customers about health protection products.